I'm feeling sentimental. Today was my birthday and although I didn't plan much, it's been a perfect day. 
I decided I wanted to go into Tel Aviv and would pick one place – rather than try and cover a wide area. I chose Sarona – a beautifully renovated site with charming buildings, lovely cafes and shops and an amazing food market – how amazing I had no idea!
The other incentive was a visit to Claro restaurant primarily because I know Daniel the barman and trusted his opinion that the restaurant was worth a visit (my only previous adventure there was two years ago and I was not impressed). I spoke to a friend who shares my passion for food and wine and we made a date to meet there for lunch.
My drive to Tel Aviv was uneventful – which in and of itself is worth mentioning. No traffic tie-ups, no detours suggested by WAZE leading to sites unknown, and no low tire pressure issues which caught me off guard during a recent trip. The parking lot was easy to find, a spot was waiting for me and my Pango parking app on my (not so) smart phone clicked in, meaning that I wouldn't have to pay a fortune for a few hours of parking there (maybe just a small fortune).
The elevator opened onto the food market and I was stunned. This is Israel? It looked like something between Harrod' s Food Court and Paris' Fauchon. OH MY GOD! Elegant stalls, lush looking food, fabulous cookware, wines, mini-cupcakes, chocolates, Asian food, gourmet cheeses, hamburgers to die for, lobster rolls, candy booths, artisanal breads and olive oils. Culinary heaven! I meandered around with a big smile on my face just feeling happy to be in such a stimulating, design-focused atmosphere.
At ten minutes before my meeting I left the market in search of Claro. That was a bit of a schlep as it took me a while to find my bearings and head in the right direction. On the way, there were a few phone calls wishing me a happy birthday, even a Skype or two from the States. I'm touched by the slightest effort made on my behalf so this was sending me to happiness heaven. At the entrance to the restaurant I was greeted warmly and escorted to a corner spot at the bar. Daniel was there and had a big smile and a warm hug waiting for me. The English menus were placed in front of me, fresh water was poured immediately and I awaited the appearance of Veronique.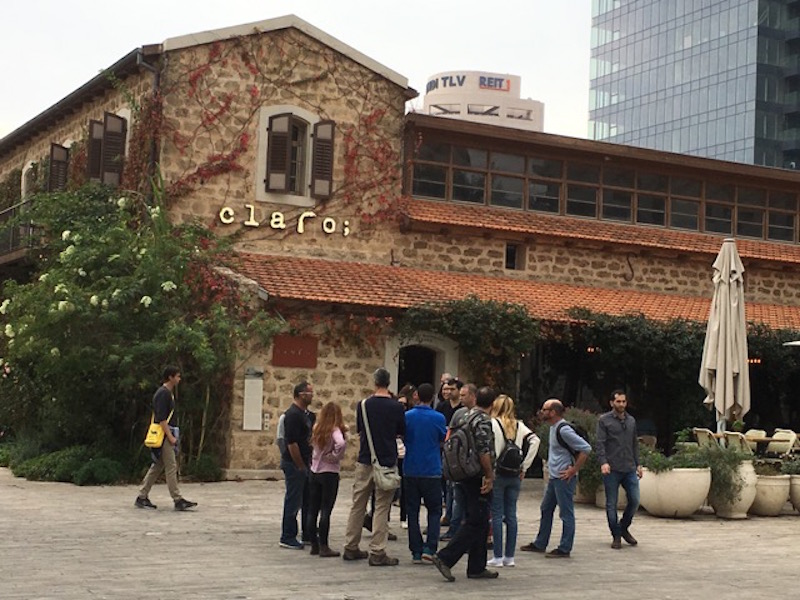 She walked in and handed me a gorgeous bouquet of red roses. How perfect! Then we got to business. We scrutinized the wine menu discussing the pros and cons. But it was all show, I knew she'd choose a Cabernet and I'd go with a Chardonnay. I deviated slightly be agreeing to try the Sancerre (amazing) and she rejected Daniel's first wine suggestion and went with a Pelter that she knew she loved.
Daniel then helped us choose the first and main courses, and as I was already indebted to him for suggesting that I come here, of course I was going to follow his lunch suggestions. Ceviche on a bed or freekeh tabloule and smoked trout with horseradish smothered potatoes for me and a carpaccio with mozzarella and arugula followed by spicy spaghetti & octopus for her. The focaccia was served with a sour cream & harissa sauce and another small dish of tomato salsa. Oh lord it was all delicious!
As we chatted and ate and drank and thoroughly enjoyed each other's company as well as Daniel's checking in, two women arrived and took the seats next to us. Rather than what I expected – that they would ignore us (as Israeli women tend to do) – these two smiled and said hi. Of course I melted and needed to make them part of our gang of two. We smiled, shook hands, made wine and food suggestions and immediately felt like we had been friends forever. I'm not sure it was due to them being so cute and kind, or me being so tipsy and friendly but Veronique and I couldn't stop talking to them and sharing all kinds of intimate details about our lives. Aren't women great? Within minutes we can open up and find so many points of commonality. And then Veronique's son arrived and joined in the festivities.
The phone kept ringing and messages kept coming and the warmth inside me kept growing. I guess everyone needs to know that they're loved, but I always need a pretty big dose of it. In the last few years, even before my divorce, I knew that I had lost the love of my husband. And then, as a result of the divorce, I was abandoned by his family – the children and grandchildren that I thought would be mine forever were no longer in my life – and the pain has been considerable. Add to that my mother dying last year after not having spoken to me for the last six years, and a brother who made me his enemy although the reason why still escapes me and my need for kindness is pretty significant. I was getting big doses of it today.
The lunch ended after three hours and we all kissed and hugged goodbye with promises to meet up again soon. Then Veronique and our new friend discovered that they shared the same birthday and that brought another round of laughter, hugs and kisses. I left in search of the parking lot with roses in my arms and a feeling of glee enveloping me.
The drive home was uneventful, slow but steady. My dogs greeted me excitedly, I quickly reviewed the mail, caught up with international news (not good) and prepared for my next adventure of the day – a movie night out with Debbie. She picked me up, handed me a lovely "prezie" and we were off to a movie that I thought was about two gay men raising a child and turned out to be about step dads competing with each other. Totally ridiculous but we both laughed and enjoyed the evening.
All in all, a pretty perfect day. And here's what I've learned by this birthday experience. That although family can be dysfunctional and disappointing, good friends can make up for it. That is – as long as you have good friends.
Some friends have totally disappeared since my divorce – even the ones that I thought would be pillars of support. The "friend" who expressed regret that she cannot invite me to a Shabbat dinner because I'm a bit "loud and outspoken" and her husband prefers quiet Shabbat dinners – she is on the shit list and will remain there through eternity. Her rejection unleashed a tsunami of hurt and abandonment feelings that were obviously welled up inside me. The friend who was the first that I phoned to tell about the divorce but has never once called me since (although she eagerly shared the news with several other friends) – she no longer rates my respect. The women's friendship group that I belonged to where not one of the women invited me for coffee or showed the consideration of a phone call to check how I was – I pulled out of the group.
But luckily for me there are treasured others who check in and show such kindness that it compensates for all the disappointments. One who exclaimed that I was now part of her family and I would be expected at every Friday night dinner (and so it has been for almost 4 years!); another who includes me in holiday celebrations with family and friends and makes me feel loved and wanted (and also sent a gorgeous orchid for my birthday); the one who travels often but always sends WhatsApp messages to say she loves and misses me, and of course friends from back home who haven't forgotten to check in although thousands of miles separate us.
I think now its time to no longer need checking in. I'm managing on my own and although serious issues still face me, I think I can handle them. My strength has increased and while it sometimes portrays to others a false sense of security and self-assurance, it has indeed kept me sane. Lesson to be shared – if you have a friend whom you think is strong and doesn't need your support – you're wrong! Outward appearance of fortitude does not necessarily mean that's what is sizzling on the inside. Shows of concern are welcome and needed no matter how independent or capable a person may appear to be.
So yes, I still need to lose weight, exercise more (okay, exercise period!) and work on cleaning my office. And of course I still need friends, the more the merrier. I will try my best not to go to the dark places and not let circumstances put me in a funk. I will put out positive energy – as much as I can – and hope to catch some of it back. I will try to stop looking for love in the wrong places and cherish the love I'm offered.
And if next year's birthday is as good as this one, I'll be just fine.