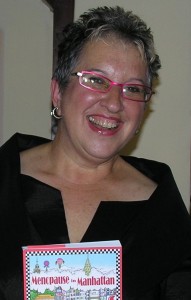 They say you can never go home again. They're wrong. It's just that home may have changed. During my recent trip back home to New York (first in four years) I found lots of changes – some great, some not so great.  All in all, it was wonderful to be home.
I went back to New York ostensibly to attend the Book Expo America taking place in the Javits Center, and to promote my new book Menopause in Manhattan . But if you looked into what came out of my suitcases (yes plural) you'd wonder if I ever left the stores. I did. Really.
My first bit of excitement came at Ben Gurion Airport – there was Menopause in Manhattan on a shelf among other "bestsellers" at the Steimatzky store. So thrilling to see it there! 
After a too-long flight, my friend Saralee picked me up at the airport and herded me to her home, a place I've felt comfortable in for the last nineteen years, ever since I traded in my cushy life on the Upper West for the wilds of the Middle East. There, besides being greeted with fresh sheets on a comfy bed, I had access to office supplies, computer hookups, Internet help (they're a family of techies) and unlimited refrigerator  privileges – with excellent food inside. It wasn't hard to adjust.
Day One was spent visiting Charles Fazzino 
– the one and only fabulous artist who created the cover of Menopause in Manhattan – in his New Rochelle studio. We met his director of operations Julie Maner, and his staff, and we witnessed the making of those amazing pieces of art. Truly an inspiring and awesome experience.
Next we headed to the Westchester Mall – an ambitious project considering one of us was jet lagged and the other uncomfortable in this unfamiliar driving environment. Lunch in the Food Court (I just had to) and a quick meander around and that was enough for both of us. Time to go home.
The next day I borrowed my friend's car (nice having such generous friends, isn't it?) and headed, yet once again, to another mall – this time Roosevelt Field in Garden City. No, the purpose was not shopping (at least not the main purpose) but rather to meet with Debbi Honorof – Director of Continuing Education at Hofstra University who happens to be high school friend of mine. We reconnected a few years ago, kept up with each through Facebook and she stepped up to the plate and offered to assist me with my book launch in New York. The plan was to meet in a restaurant – along with another friend – this one from nursery school!
The lunch was wonderful – I don't recall the food but the two women opposite me were interesting, fun, and full of amazing recollections. Talk about a walk down memory lane! I didn't remember most (all?) of what they remembered but the experience was unforgettable.
So then afterward…well, it was a mall. You can guess the rest.
Next day – the New York launch!!! Menopause in Manhattan was having its premiere! Thanks to Debbi, the launch was held at the Huntington Arts Council. As friends, old and new, wandered in, there was a bubbling atmosphere. 
People from my recent life, old life, long-lost cousins and elementary
school friends joined the celebration. I was more than touched by the show of support. We had planned it quickly, without advance notice. Debbi produced a wonderful buffet of food, set up the gallery for a talk and had everything ready for me. All I had to do was speak and sell the book. We auctioned off a signed by Fazzino poster of the book. A very generous friend of Debbi's was the lucky winner.
The end of the weekend signaled the end of my playtime. It was time to get serious and into the city – Book Expo etc. My friend drove me into Manhattan, straight to the welcoming, gorgeous apartment of friends who live in Greenwich Village. And what an apartment it is!


From there? Straight to BandH on 9th Avenue and 34th – THE place to buy cameras. One hour and one little Canon Power Shot later, a quick run through Macy's (could you resist?) and back to the apartment to get ready to meet an acquaintance from my NY interior design days – drinks at "The Library" at The Regency Hotel.
Next day was the first day at the Book Expo. OH MY GOD! Where does one start?   My book was displayed at the Independent Book Publishers Association Booth – but till I found them! There are miles and miles of exhibits to wander through – books, books, books and more books. And publishers, agents, reps, publicists, students, salespeople, authors, celebrities and and and… Oh yeah, lots of free synthetic, environmentally green (?) huge shopping bags being given out. You had to time your arrival at the booth giving them out about ten minutes before Give Away Time and then you're golden!
This went on for two more days. There were also lots of conferences, lectures, meetings, book signin
gs and private get-togethers going on. And that's not to mention the action in the dining area. I met three interesting people just by sitting at a table and repeatedly saying "No, the seat is not taken, you're welcome to join me."
I volunteered at the IBPA booth, where I got to chat with lots of interesting and interested people. I saw, spoke or listened to Diane Keaton , Dr. Ruth Westheimer, Michael Moore,  Mindy Kaling and Charlaine Harris. I lunched with Debbi and
Susannah Greenberg, the very talented book publicist – which provided a wonderful respite from the Expo excitement. Other than aching feet (if you're planning to attend one of these fairs
– wear supportive shoes!), the experience was exhilarating.
After the show concluded, I felt that I had to make the most of my time in New York, so I made lists – who could possibly find Menopause in Manhattan fun to read, or script as a movie? I hand-delivered copies of the book to Donna Karan, Vera Wang, Bergdorf Goodman(because they're in it) as well as Nora Ephron & Bette Midler (because I love them). And about 25 major newspapers and magazine, and yes, Oprah, and anyone else I could think of.
So now I wait, and hope. I hope to see Menopause in Manhattan take on a life of its own. And become a big hit. And make it all the way to Hollywood. And…
Hey! Steimatzky Bookstore chain in Israel just called and reordered the book – for the third time. We're getting there!