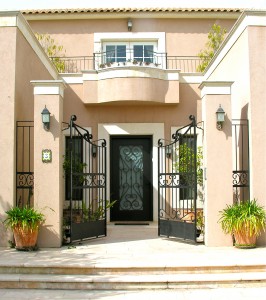 Of all the dreams I've had and projects I've dreamed up, I never really believed that this one would come to fruition. But here's a warning for you – be careful what you wish for. My dream has materialized!
Casa Caesarea, a boutique Bed & Breakfast, is now a reality. It's in my home and that makes me the host – the innkeeper so to speak. The first guests have come and gone and it was pure joy. I actually felt sad when they left. So if it keeps up like that – it was definitely worth all the hard work.
I joked about opening a B&B over the years – ever since my husband and I built a home on the golf course in Caesarea – close to Israel's shore line and in one of the most beautiful places in the country. It was a dream to live here for many, many years. And although he (husband) said there was no way he was "shelepping" all the way to Caesarea to get home, he changed his mind when he saw what there is here. Views of the Mediterranean, wild bougainvillea everywhere, beautiful homes, beaches, archaeological ruins, fascinating port … how could anyone resist?
I laugh now when I think back to what people said to me. "Caesarea? But it's so far!" I always retorted  "Far from what, exactly?" That move was in 2002 and life has only become better. In 2004 we decided to build our home, in 2005 we started construction and in 2006 we moved in. So its been six years and I guess I was ready for some new action.
When my husband said yes to the idea of opening a little bed and breakfast (tzimmer, as its called here) I was more than shocked. Who knew! And within what seemed like no time at all (perhaps it was two months) we did it all – entrance door, new furniture, custom made linens, the thickest plushest white towels, the soaps, the gels, the shampoos, the sewing kits, the slippers, the robes, the keys to the suites, the garden, the garden furniture, the new beds, mattresses, an antique piece to serve the buffet breakfast on and …
What was most special was the help I received from people. Like Lenora Genovese who stepped up to the plate and designed the logo, Zidra Grigonyte who not only advised on the interior design, but shopped with me and whipped up a new sofa cover, Moti of Binyamina Antiques who stripped, waxed, polished and fixed a magnificent Art Deco piece and an old gate leg table that I had lying around, and Dovy the gardener who made miracles happen around here, Shy the Guy who hooked up the house, suppliers who came through when they were crazy busy with Passover orders and most of all my wonderful friends who encouraged and supported me throughout the process. I could not have done it without all of you out there!
So here's to Casa Caesarea, the new business, and a new direction in my life. Please come visit!