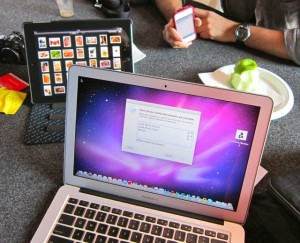 Steve Jobs has died. I am sad beyond words. The world has lost a great man
In ways small and large, he defined my world. In 1987 I bought my first Mac SE. I used in it my interior design business and loved it.
Soon thereafter, I bought my first stock purchase – Apple Computer.
When I moved from NYC to Israel, I shlepped my Mac with me. And in spite of living in a sea (Mediterreanean) of PC's, I ferociously hung on to it. I finally gave up and caved in to PC when it was clear that support and products were just not available in Israel.
I came back to my roots three years ago with the purchase of an iMac. I have since added the iPod, the Macbook Air and the iPhone.
It seems Steve Jobs had his finger in nearly everything i have my fingers in.
The world is less of a place today.
iLost. We all lost.