My article in Hebrew for the on-line lifestyle magazine: Saloona.
The original name in Hebrew was supposed to be: Bye Bye Ba'al, Hello Heder! (Bye Bye Husband, Hello Room!) Click on the title and it will take you to the Internet page. Here's the English translation:
I want to talk to you about change – and how sometimes a difficult transition can bring about great results.
In my 20's I divorced my husband – a nice Jewish doctor (actually, not so nice). That was the first major change. In my 30's it was my job – my "caring" boss took me to lunch and fired me (obviously I was wrong about the caring part). Two days later I started my own interior design company. Big change! At 40 I gave up a Manhattan apartment, sports car and parking spot and moved (with the business) to Tel Aviv.  What a change! It's been over 20 years and I haven't looked back, not even once.
My latest change was the most painful one. I separated from my second husband. I loved him and thought we would be together forever. I was wrong. I lost him, his family & friends, my faith in relationships and my financial security. Talk about the ultimate change! But in the process I gained back my dignity, my equilibrium and my health. And a bedroom!
Let's focus on the bedroom. I don't know a woman alive who wouldn't like to redecorate her bedroom. So why doesn't she? Money? Can't be – because you can redecorate very reasonably. Lack of design sense? Nope, there are magazines, Internet & furniture stores offering endless ideas. Complaining husbands? Yup, that's the toughest to deal with.
"Why do you need all those decorative pillows on the bed? I hate having to throw them all off at night."
"What's the point of making the bed in the morning? You just have to mess it all up when you go to sleep."
"I don't want color or wallpaper on the walls. White is fine. And I hate curtains – they're girlie."
"No area carpet on the floor, the dog will get his hair all over it."
Now think of that same room, minus the husband. Yes! You can finally do what you want!
Okay, okay, don't get all pissy with me. I'm not telling you to divorce your husband. At least, not over this. But I am telling you that you should have a lovely bedroom. Darlin' – you deserve it!  Just do it – go ahead and reclaim your bedroom and redecorate! I promise you will sleep better, wake up happier and have a little hop in your step. Really! (But don't ask me for advice on how to deal with complaining husbands).
When my husband left the house I inherited his office, and at first it became a storage place for everything I didn't know what to do with.
Then I thought, why not try to fix it up and make it a guest/lounge room? I separated a king bed into two single beds, placed them at right angles to one another and added little side tables. As I was on a creative binge, I let my imagination go. I added a wallpaper border, designed a bed cover with a black border and funky pillows, added curtain tiebacks and little side tables (all collected over years and gathered from different parts of the house). Suddenly I liked the room more than my own bedroom. So why not take it for myself?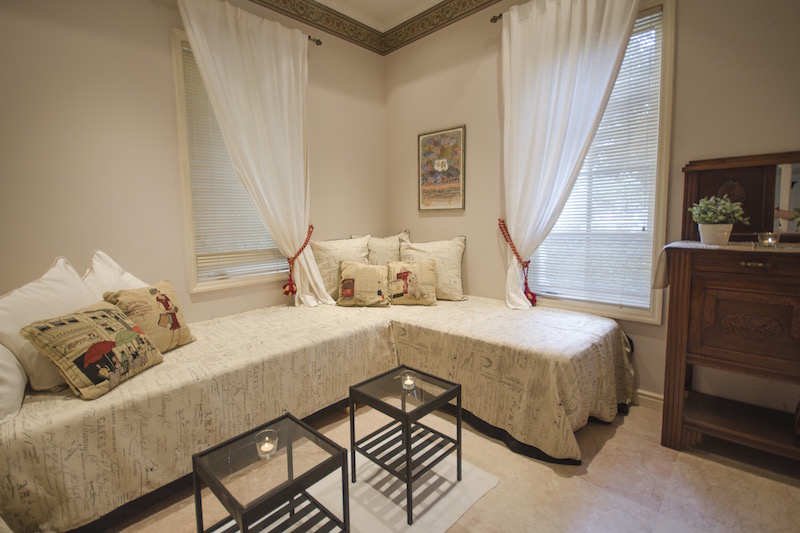 Once I made that decision, I joined the twin beds back together and fit it into a corner, creating a little sleeping niche.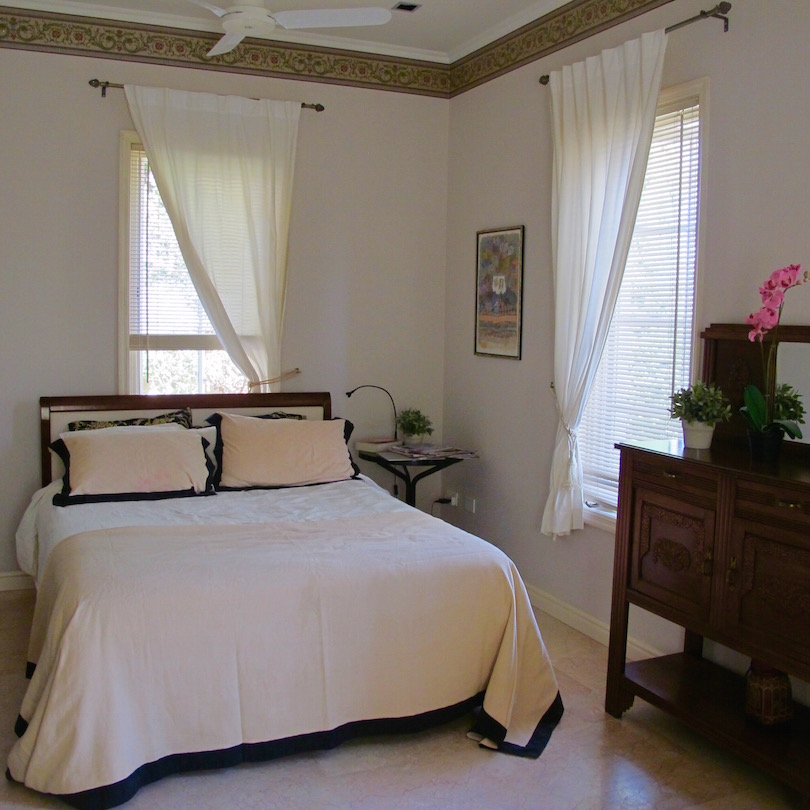 I loved it! But still… there was something missing. I had a new idea – a last touch to complete the transformation. I've always loved beds on angles, but it takes a special (or weird) room to pull it off. You need plenty of space or a long narrow area (like I had) so that you can dedicate one section just to the bed.
I tried it and it worked! I also switched the draperies with another room, added an area rug with a border, kept the old file cabinet as a night stand and the final accessory was an orchid.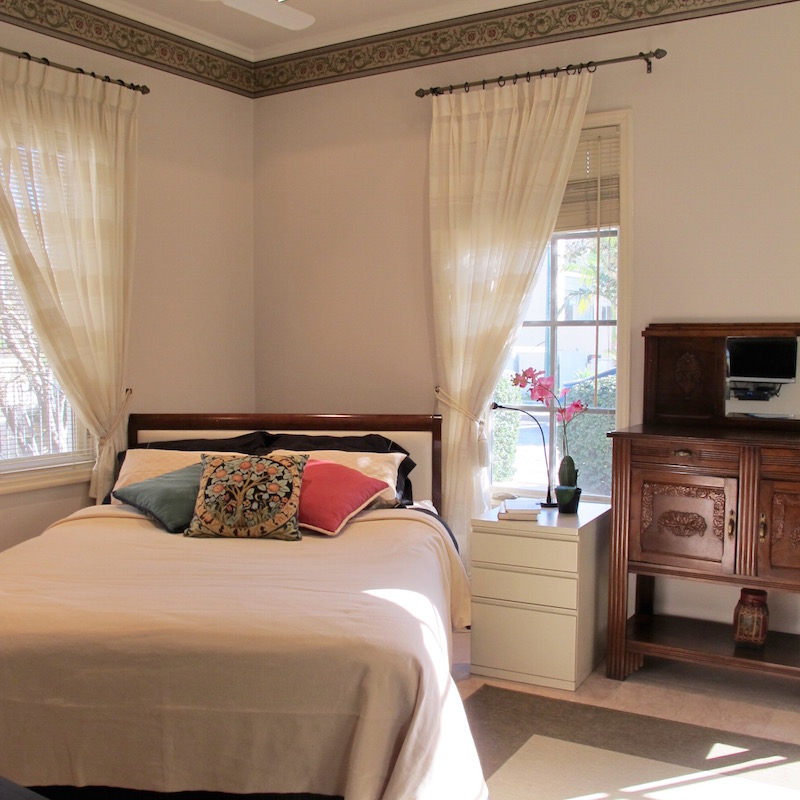 I was delighted with my efforts but I still had to deal with the other side of the room – which was basically a mess of a storage area, where everything I didn't know what to do with had been thrown. I always wanted a cozy reading corner – even if I wasn't going to read – I just loved the look of it. It was time to get organized! I did a massive cleaning and pulled in some furniture I had from other rooms and Voila!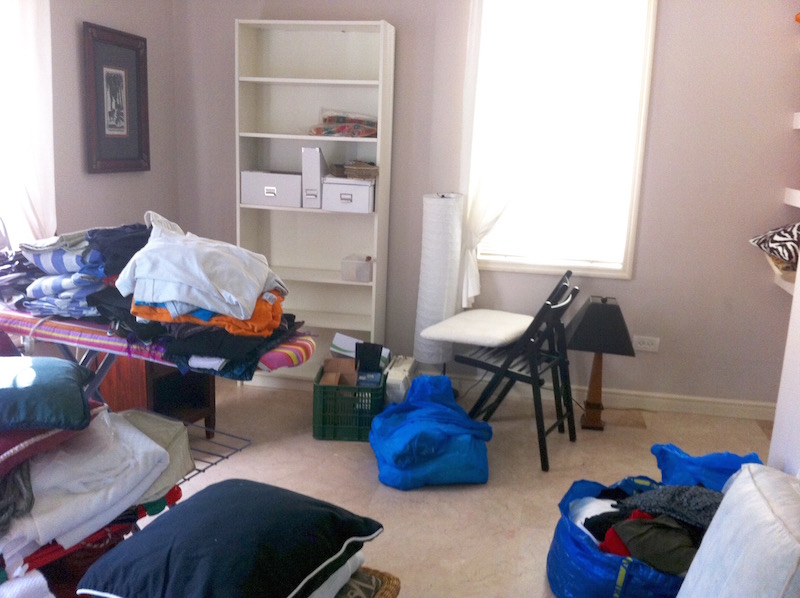 Loving my new bedroom!
Here's how YOU can do it:
1. If you have the space, consider changing the location of the bed – angles are fabulous but require lots of room.
2. Add decorative touches to your bed: new bedspread; coverlet; decorative pillows – get crazy!
3. Add a carpet, remove a carpet, or use a small patterned carpet on top of a larger plain carpet.
4. Add curtains– you can't imagine how successful they are in giving a room a finished, elegant look.
5. Color the walls! Go for toned walls or do an accent wall or add wallpaper or a wallpaper border.
6. New lighting – consider a bed lamp with a shade; a new ceiling fixture (chandelier?) or anything that appeals to you.
Why didn't I think of doing this sooner? Sweet dreams!