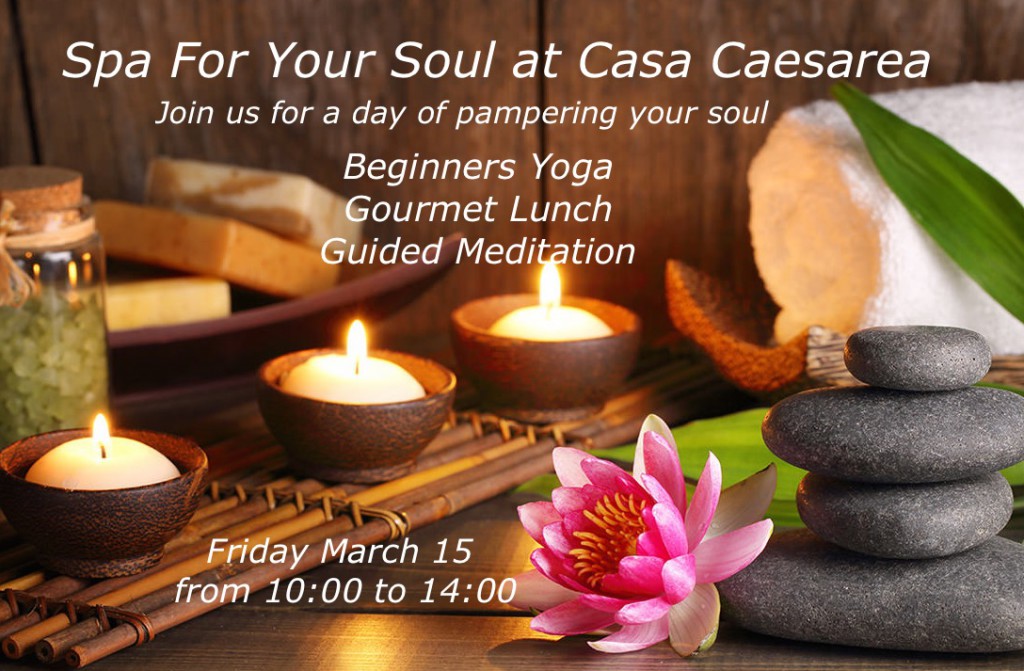 Anne Kleinberg is pleased to offer fun, delicious & creative workshops in her home in Caesarea. With her eclectic, slightly zany background – encompassing a long career in interior design, a shorter career as a journalist, a successful stint as a cookbook author, translator & editor, and triumph as a self-published novelist and an award-winning Bed & Breakfast owner – she has a lot to say and share. All courses are given at Anne's home in Caesarea and include a sit down lunch. Here's what's on tap:
SPA FOR YOUR SOUL DAY – March 15, 2019
For women who want to pamper their bodies and quiet their souls in a stunning, nurturing setting. This is the first of our Spa For Your Soul workshops.
10:30 Morning Yoga Session with Shira Izikowitz.
Shira has 20+ years experience in massage/alternative healing/bodywork and is a licensed instructor of Vinyasa style yoga. She will teach us how to relax body & mind with breathing and easy yoga movements.
12:00 Buffet Lunch with Host & Cookbook Author Anne Kleinberg
1:00 Guided Meditation Session with Michele Kay
Michele is a meditation guide, intuitive empath and channel. Returning to Israel after spending many years teaching in the US, she will present a short talk on meditation, followed by a guided meditation opening the chakras and releasing old energy thats ready to be released.
NIS 290 if paid by Feb. 22
NIS 320 if paid after Feb. 22
To Reserve Your Place: Call Anne at 054 543-0228 (Israel) or use the Contact Us page