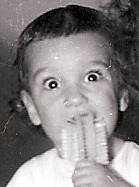 Ann(e) Kleinberg's journey of life has been  zig zagging geographically and professionally from a pretty young age.
Born in Queens, New York to a cantor father and school teacher mother,
Anne attended public school and graduated from the City University of New York with a degree in psychology (like many baby boomers – liberal arts seemed the way to go). She attended Tel Aviv University for her junior year and that cemented her love of Israel. A few years later it was time to study seriously and pursue a "real" career. Interior design it was and Fashion Institute of Technology in Manhattan was the place.
Following gradua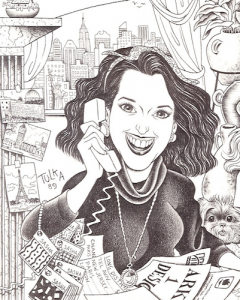 tion Anne found work with an interiors firm specializing in health care facilities – hospitals, clinics, offices, etc. A niche was found! In 1985 she opened her own firm -ARK 1 Design and began getting work immediately. She was able to buy herself an apartment on the Upper West Side and e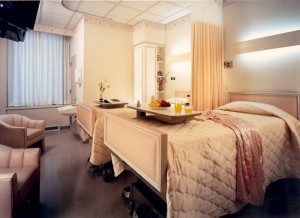 ven got a parking spot in the deal! Business was good – she was designing hospital lobbies  and patients rooms and clinics for several medical centers. She event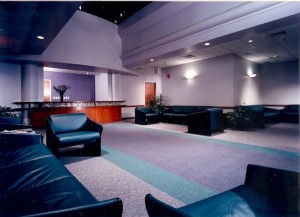 went into wallp
aper design and create a line of borders, especially to brighten up the interiors of hospitals. And she could spend as much time as she wanted at Bloomingdales.
Then it happened – the epiphany! She decided to move to Israel! So off she went, shih tzu under one arm, drafting table under the other, leaving the comfort of the Upper West for the wilds of the Middle East. ARK 1 Design went
international. Hello Tel Aviv!
Anne did lots of interesting things in Israel. She worked for a medical supply company as Director of Design. She and a friend opened a graphic and marketing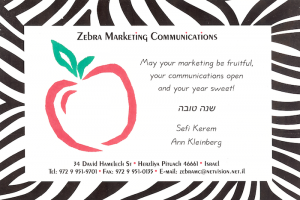 communications company and they had lots of fun designing brochures and logos for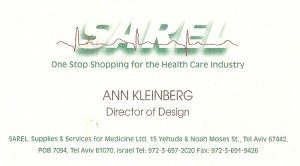 companies. There was Presence of Mind, a creative poetry and writing business and Zebra Marketing, and… Well, you get the picture. Basically she really loves graphic design so any excuse to design a new card. :-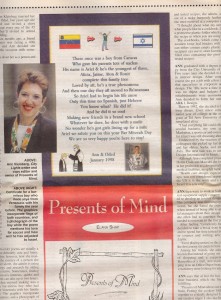 It was all going really well.  And then by chance, she happened to mention to a friend of hers, who was the editor of City Lights – the weekend supplement of the Jerusalem Post – that she had been to a great restaurant. And that friend Shelley suggested she write about it. And just like that, a new career was born!
Articles about food led to lifestyle stories. And lifestyle stories led to a weekly column. And that in turn led to being hired by a international publisher to write about Israel for their book on foods of the Mediterranean countries. From there – editing and translating cookbooks from Hebrew to English. And from there – Voila! Pomegranates! The most amazing opportunity to create a cookbook  of recipes using all parts of the pomegranate.
A cookbook writing career was born!
And not only that! Pomegranates made it into the New York Times! How's that for a dose of excitement for a first cookbook?
Pomegranates led to other

cookbooks. Anne was well ensconced in the foodie business – with a blog (www.planet-pomegranate) and a website (annekleinberg.com) and a membership in the International Association of Culinary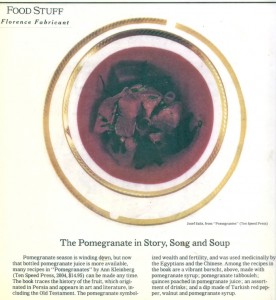 Professionals. And then …
Her friend slash editor Karine Wagemakers  suggested she write a novel. Huh?
Indeed a novel was written. It took four years, endless editing, several proof-readers, a hell of a formatting time, the benevolent agreement of an incredible artist Charles Fazzino) to create the cover and a "Yes!" from the biggest bookstore chain in Israel to carry it.
Menopause in Manhattan
is about dealing with adversity and coming out on top. About considering change in your life, moving on, taking risks. Its about dusting off those old dreams and making them come true! Its a feel good story, with some serious issues, that will encourage people (most especially middle-aged and older women) to get on with it!
Anne is now working on her second novel. Stay tuned!