I've never had a hospital stay. Of course I've been in plenty of them – visiting sick people and designing hospital interiors when I was an interior designer in New York. But an overnight stay after a procedure? Never, until now.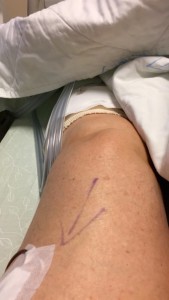 Earlier this week I had hip replacement surgery. Sounds horrific, makes me feel ancient and was scary as hell. But so far, this surgery gig ain't so bad!
First – there's all the commiseration from people who tell you that either they've had the procedure or they know someone who has. They share their advice, their opinions, and the reassurance that it's not that bad. And apparently, life is amazing afterwards! You'll be back riding a bike in no time! (But I never rode one to begin with).
Then you meet the surgeon and he has to be the sweetest man on earth. And you develop a little bit of a crush on him. So what's bad about that? It's no punishment meeting and consulting with him. (Even if he doesn't agree with your request to do a little tummy tuck at the same time. I mean really – he's in the general area…).
You're dealing with the logistics of hospital admission and you get to the part where they ask you for your emergency contact number. Ouch, that hurts. You no longer have a husband or a family, so who will really care if you croak on the table? Good reason to throw yourself a pity party. But then, several friends step in and and offer to take care of you, stay with your dogs, do whatever needs to be done. Can one be any luckier?
I got a little morbid and started thinking about death. Besides making it clear to my close friends that I insist on a space in the Caesarea Cemetery because its really pretty, and please make sure they play Bob Marley music, I also contact my lawyer to adjust my will. And she's really concerned about my surgery and that reminds me of how much I like her. So in general, I'm feeling pretty good about the people I have in my life. When family sucks, there are always friends – and they are the ones you get to choose, not get stuck with!
Assuta is a great hospital and the checking-in process runs smoothly. My friends are with me, schlepping my stuff and taking time off from their own families and responsibilities. I'm readied for surgery, go through the pre-op procedures and I'm given a set of headphones and encouraged to relax and listen to music. My surgeon comes in to say hello and promises me that it will all be fine and I'm swooning (and that's pre-anesthesia!) Why are the cute ones always married?
Surgery is successful and I'm sufficiently drugged so that I don't feel anything. Back in my room, relieved that it's over and grateful that it went well. The next few days are a blur of injections, infusions, tubes, temperature-taking, pill swallowing, floor washing, nurse visits, doctor visits, physio-therapist visits and walks down the corridor with that horrible walker. (No time to relax – you're back up the next day testing out that new hip).
Visits from good friends who bring yummy food. And chocolates. And you can ask for anything you want and they'll bring it to you because they love you and want to take care of you. And your GP calls because she knows you've had surgery and is concerned. And your osteopath texts and asks how you're doing (another cute one who's married). And then, its time to go home and face the world. But you still need help…
So one of those wonderful friends drives you home and your first stop is Tiv Tam – the new gourmet food shop in your neighborhood where you treat yourself to roast beef by the kilo and Diet Coke and artisan breads and containers of Haagen Dazs – all the stuff you know you shouldn't have at home but you don't care because you've just had surgery and you need the comfort foods.
The phone rings – it's a delivery of an enormous fresh fruit platter – from your friends in Israel who are more like family (the good kind of family). And your friend who is staying with you and taking care of you and cooking for you and serving you and walking your dogs is asking if you need anything and reminding you to take your pills and instead of accepting your gratitude she thanks you – because she loves it here and its like a vacation for her.
Friends start to drop by. First there's a delivery of homemade chicken soup. That's followed by fresh from the oven shepherd's pie – enough for several meals. Then a friend drops by with marinated peppers and a Middle Eastern chicken cooked with preserved lemon. And then another friend (a recent one!) calls to say she's on her way – and she shows up with just made couscous with meatballs and beef stew. And I'm thinking… if people keep feeding me and stopping by with meals – I might even consider having the other hip done – even if it doesn't need to be.
All I can think of now is gratitude. For good friends, people sending texts, calling, writing emails, asking what they can do. Checkup phone calls from the hospital, from my health insurance company and the physio-therapist who is on her way over and a delivered copy of the newspaper with the Sunday New York Times Crossword puzzle! Another friend just phoned – she's on her way over. And one who's already been here is making plans to come back, with more food! I mean really, could I ask for anything better?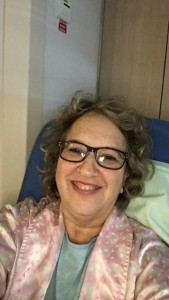 I've never felt so taken care of and loved. If ever I had the tendency to feel sorry for myself, to indulge in misery and melancholia, this experience would blast that tendency right to smithereens.
And oh yeah, just in case you're thinking of stopping by – don't bother bringing ikra or okra.