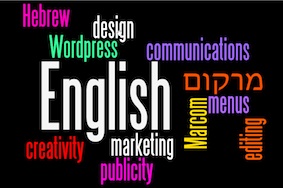 I just started a new business. Actually, its twenty-five years in the making.
Marcom English puts together everything I love and have been doing since I could hold a pen. Writing, editing and working with graphics. 
I'd been doing some work for a company overseas – helping them with the English on their website. Then, the co-owner asked me to take a look at another site of hers, and spruce up the language there. No problem – I like coming up with slogans, clever expressions, saying the right thing in the least amount of words. That's what marcom is all about –  marketing communications.
As I was reading and thinking about her website, going over in my mind how I could improve the language, a trickle of a thought popped up. I did this once full time. And I loved it. Why did I stop? My partner moved overseas, my interest turned to journalism and cookbook writing and it faded into the background.
As I worked on the website, I found that it answered a need of mine – to make something wonderful out of something okay. To make content sparkle, which should in turn make the reader perk up, which in turn should help my client sell services. Playing with words, creating slogans, finding tag lines – it's all about being creative.
The best thing to come out of the project was the realization that I had missed the field of marcom. I love writing, and this way of writing for others was so satisfying. Why don't I do more of it? Why don't I open a company and promote it? Why don't I create a website? Its logo designing time! (My husband, and a few close friends who know me too well, used to tease me about my inclination to start new businesses. They knew that deep down, I just wanted to design another business card. And they teased me about it plenty.)
But now we live in the age of the Internet. I'm no longer into business cards – websites are the way to go. Choosing a website, designing it, adding content, changing colors and fonts, inserting photos and videos, cruising the options – the possibilities are endless.
Marcom English focuses on improving the written word (the English written word, that is).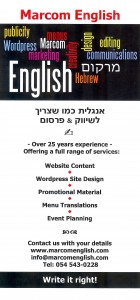 And hopefully it promotes the written word in a way that is friendly, approachable and clear.
I'll keep you posted as to how its going!